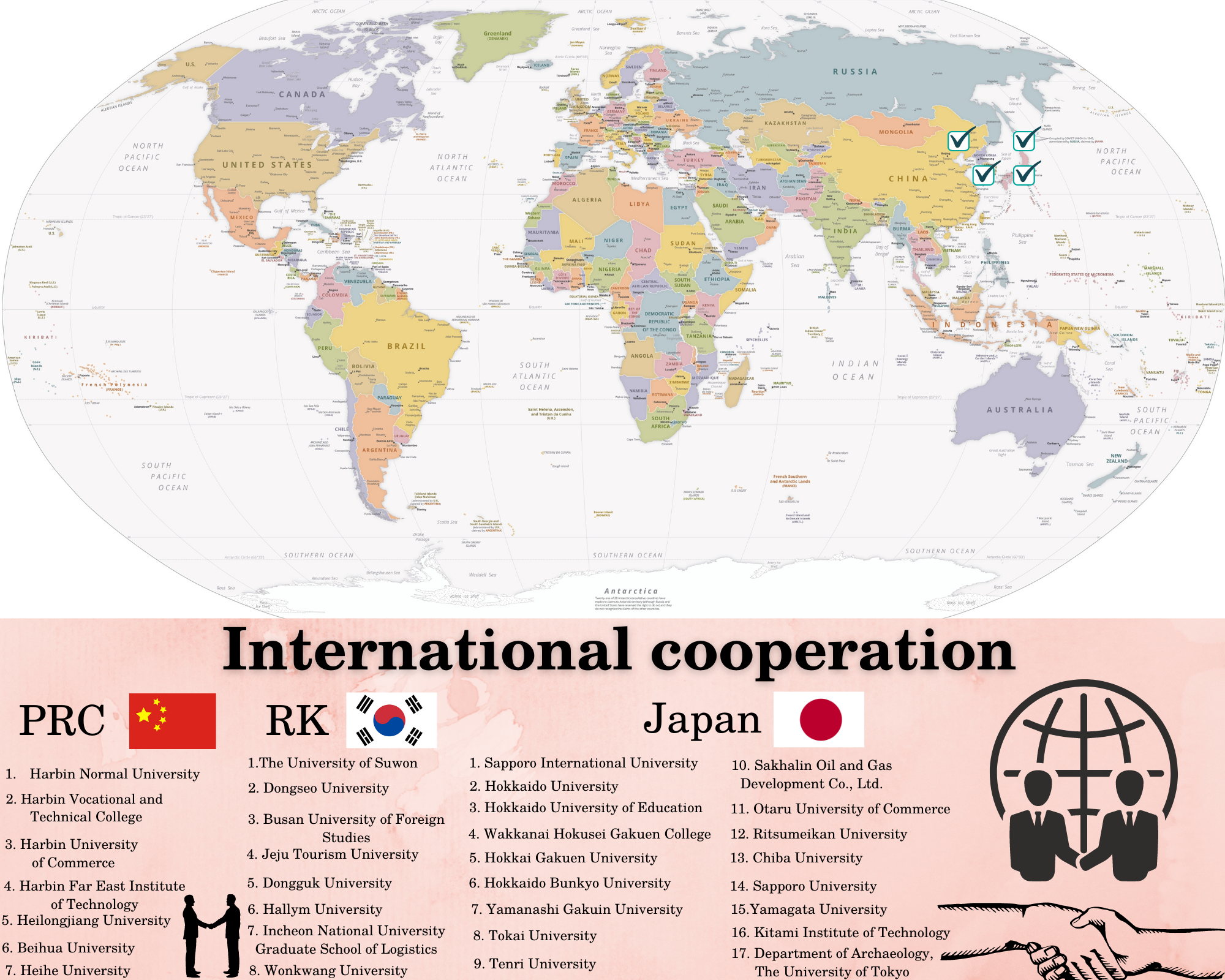 Academic Mobility Programs at Sakhalin State University
The development of international relations within the frameworks of different countries education systems is a top-priority of our international cooperation. In order to carry out such cooperation, international academic mobility (AM) programs are regularly implemented in higher education institutions of many countries all over the world. Sakhalin State University (SSU) is not an exception since regular exchange of students and teachers takes place in our institution on a continuous basis.
What is AM actually? According to the new regulation adopted in 2018 ​"About academic mobility organization in the Federal State Budgetary Educational Institution of Higher Education ​"Sakhalin State University", AM is "…one of the most important areas of educational and international activities. It promotes an improvement of quality in higher education, an increase in scientific research effectiveness, an enhancement of management system, an establishment of external and internal integration", moreover: "…SSU students and international students from partner universities receive a short-term education courses outside of their home university, and after a foreign study program ends, a partner university declares that they have passed all the academic credits and obtained good results".
The objectives of AM in SSU are "…to improve the quality of education, to implement new forms and technologies of education, to participate in the international education programs, to create conditions for future expansion of SSU alumni employment areas, to ensure their competitive abilities in the global job market, as well as to raise the prestige of SSU in the education market".
The above objectives international AM have been successfully implemented at SSU since 1989 year, when the first international agreement was signed by SSU and Hokkaido University's Faculty of Education (Japan). Many years have passed since then, and a lot of Russian students had an opportunity to participate in AM programs, successfully underwent lots of different academic courses and finally came back to their home university to continue their studying. Furthermore, every semester international students come to SSU, most of them study Russian language and culture as the major. Studying in SSU has a positive impact on their language competence level and the general cultural evolution of the foreign participant.
Every year SSU enters into new cooperation agreements with foreign universities and renews the old ones. First, the parties jointly discuss the content of the future agreement and after reaching mutual accord on all the details of the partnership, rectors sign it.
Mainly the geography of the foreign sister universities is historically connected with East Asian countries: Japan, Republic of Korea, Democratic People's Republic of Korea, People's Republic of China, Kingdom of Thailand. SSU has developed the closest ties with many universities of Japan, the Republic of Korea and the People's Republic of China. About 60 SSU students go to these countries for internships in one calendar year, and approximately 60 international students come to SSU to study on Russian as a foreign language program and Russian language and culture program as well.